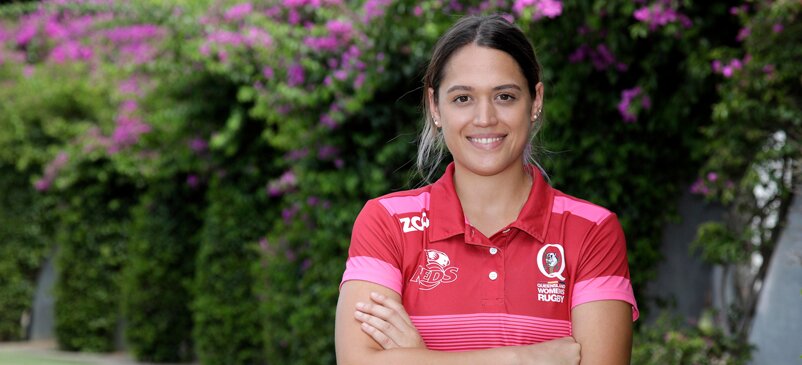 Wallace Bishop confirmed as presenting partner for Brisbane Global Rugby Tens women's tournament.
The winners of the women's tournament at February's Brisbane Global Rugby Tens will receive a bespoke medal and a silver pendant created by craftsman jewellers from Wallace Bishop.
The keepsakes are currently being designed and created by the iconic Queensland jeweller, which has signed on as the Presenting Partner for the four-team women's tournament at the 2018 Brisbane Global Rugby Tens.
Wallace Bishop's branding will appear on the playing jerseys of the Brumbies Women, Melbourne Rebels Women and Queensland and New South Wales women's teams that will contest the revolutionary event.
Having created the iconic trophy for the men's winners of the Brisbane Global Rugby Tens, Wallace Bishop will now create a trophy for the women's winners, as well as fashioning a suite of medals and pendants.
"We're delighted to increase our involvement with this wonderful event, especially with the women's sides representing their place in World Rugby." Wallace Bishop chief executive Stuart Bishop said.
"At the 2017 inaugural event we were thrilled to present the tournament with its iconic trophy, the creation of which coincided with our 100th year in business in Queensland.
It was a real thrill to see Chiefs captain Liam Messam hold the trophy aloft after an incredible tournament in 2017, and we're delighted that early next year we'll also see a worthy winner crowned of the expanded women's tournament."
Tournament chief executive Rachael Carroll said she was thrilled Wallace Bishop had taken a progressive stance and towards the expanded women's event.
"Wallace Bishop is a Queensland institution, so it's great to see them backing this concept and offering beautiful pieces for the ladies to celebrate their achievements" Ms Carroll said.
"Women's sport in Australia is going from strength to strength and finally getting the recognition it deserves," Ms Carroll, a former Australian representative in pole vault said.
"The matches between Queensland and New South Wales were a real highlight of the 2017 tournament, and the involvement of the Brumbies and Rebels in 2018 will raise the bar even further."
Queensland Women's star Kiri Lingman said players were truly grateful to the vital sponsors who supported the growth of women's sport.
"The progression of women's rugby wouldn't be possible without sponsors like Wallace Bishop, so we're so thankful and lucky to have them on board and hopefully we can do them proud," Lingman said.
"Last year the tournament helped showcase the talented players we have here in Queensland to a wider audience and it was such an amazing experience to be a part of.
"2018 will be even bigger with the ACT and Melbourne joining the fold and to have a sponsor in Wallace Bishop come on board is evidence of the growing popularity of the Women's game."
About Wallace Bishop:
Headed by Stuart Bishop CEO, the great grandson of the company's founder Wallace Bishop
Founded in 1917, Wallace Bishop is a family-owned and managed business with five generations in the jewellery and watch industry and have been the jeweller of choice for thousands of Australians.
The Bishop family continues an unwavering day-to-day involvement in every single aspect of the business from the establishment of the business by company founder Wallace Bishop (and his wife Mary Lucy Slide also a guilder and polisher) from the Elizabeth Street premises in 1917 to his son Carl Bishop, grandson Wallace Bishop (Chairman), great grandson Stuart Wallace Bishop (CEO) and the next generation in Stuart's sons: Alexander and William
Wallace Bishop has over 50 stores based in Queensland and Northern NSW with 500+ employees, many of whom have also been with the company for decades
A much-loved icon of the jewellery world, Wallace Bishop's enduring success has been based on providing highly-personalised and genuinely customer-focused service.
Talk of the Tens
FOX Sports
Auckland Blues call up great Carlos Spencer as wildcard for Brisbane Tens
2 Nov 2017
Auckland Blues call up great Carlos Spencer as wildcard for Brisbane Tens
NZ Herald
Carlos Spencer and the return of the Blues' wildcard
2 Nov 2017
Carlos Spencer and the return of the Blues' wildcard
Stuff
Australian rugby is like a tortoise, 'slowly coming out of its shell' – Honey Badger
19 Oct 2017
Australian rugby is like a tortoise, 'slowly coming out of its shell' – Honey Badger
NZ Herald
Honey Badger's plan to attract interest to the Rugby Tens
27 Sep 2017
Honey Badger's plan to attract interest to the Rugby Tens
Stuff
Chiefs backline star Tim Nanai-Williams happy to face the heat in Brisbane again
4 Sep 2017
Chiefs backline star Tim Nanai-Williams happy to face the heat in Brisbane again
rugby.com.au
Tweaks to Tens in second year
30 Aug 2017
Tweaks to Tens in second year
Kyodo News
Wild Knights to once again represent Japan at Brisbane 10s
30 Aug 2017
Wild Knights to once again represent Japan at Brisbane 10s
Fiji Village
Fiji team will be sent to 2018 Brisbane Rugby Tens
30 Aug 2017
Fiji team will be sent to 2018 Brisbane Rugby Tens
The Courier Mail
Global Tens secure All Blacks star Julian Savea for next season's revamped tournament
29 Aug 2017
Global Tens secure All Blacks star Julian Savea for next season's revamped tournament
Populous
Suncorp Stadium's Latest Sporting Revolution
10 Mar 2017
Suncorp Stadium's Latest Sporting Revolution
The Courier Mail
Rugby's new tournament a big hit
13 Feb 2017
Rugby's new tournament a big hit
Sydney Morning Herald
Ten reasons the Tens are better than the Sevens
12 Feb 2017
Ten reasons the Tens are better than the Sevens