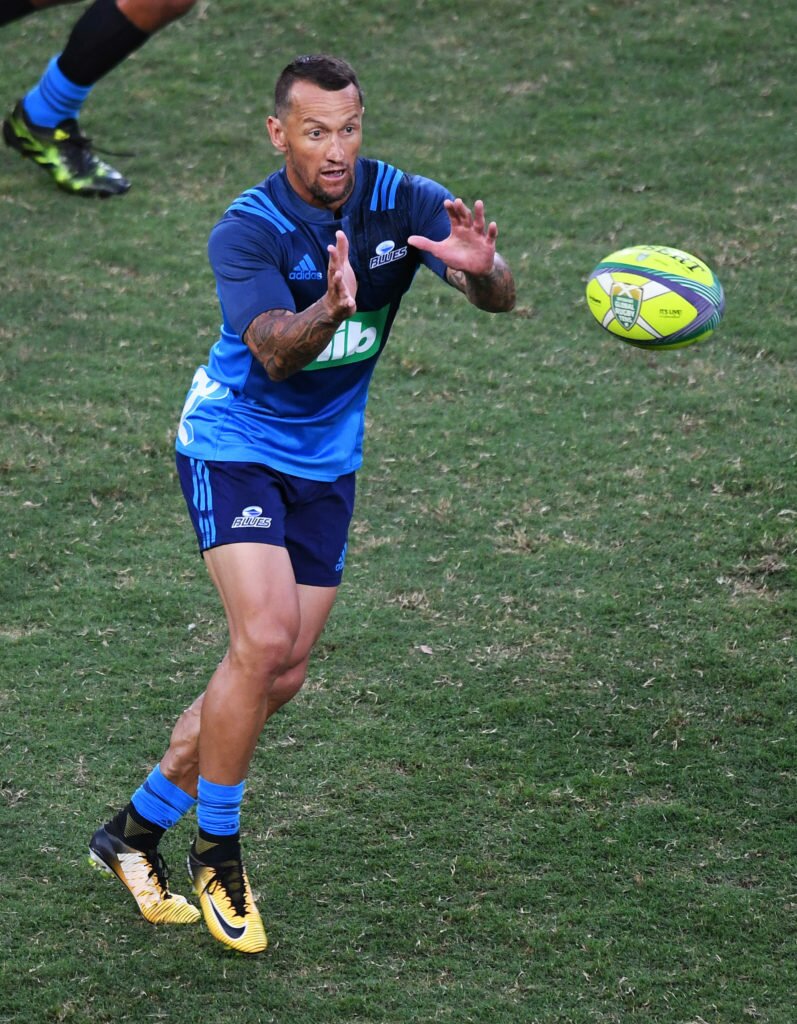 Carlos Spencer was among the winners in the early rounds of the Brisbane Global Rugby Tens
It's a young man's game but the old heads will have an influential say over the Brisbane Global Rugby Tens as the tournament heads into finals day on Saturday.
The Blues, featuring 42-year-old former All Black Carlos Spencer, the Crusaders and Liam Messam's Chiefs are among the teams to beat after the opening stage of the two-day tournament at Suncorp Stadium.
Both are undefeated after two pool games, with the Blues tallying the tournament's highest single game score in their 47-10 demolition of the Wild Knights from Japan.
Wildcards Spencer, Adam Freier (Rebels), Pita Alatini (Highlanders), Drew Mitchell (Waratahs) and Carl Hayman (Pau) were barely sighted on the opening day.
The Brumbies' Andrew Walker, however, looked like he never left the club.
His silky hands and ability to materialize in the right place at the right time have never left the 44-year-old.
"I'll get up in the morning and keep going because I just love it," Walker said.
"If I stop I'll crumble."
Spencer booted three conversions in his side's romp against the Wild Knights.
He spent most of his second-half minutes anchored to the wing but it would have warmed the hearts of the Blues fans to see him once more in the jersey he served with distinction in Super Rugby.
"I've been looking forward to this for a long time," said the 35-Test All Black.
"To get out there with so many youngsters, it's been awesome.
"I reckon this game would have suited me back in the day.
"Being back in this environment is a privilege."
Another former All Black, Conrad Smith, is no wildcard, still among a handful of Kiwis representing Pau.
It was a tough night for his outfit, losing matches against the Waratahs (31-10) and the Chiefs (31-7) but he relished the opportunity to face some old mates for the last time.
"It's a bit too fast, especially for a 36-year-old. I tried to slow it down as much as I could but it's a great concept," Smith said.
"Coming back here and seeing guys like (Messam) … some of the coaches are closer to our age than the payers.
"When you're playing in France you miss that."
While the Crusaders fielded a squad barely recognisable from its great teams of the past, they signed off on the opening night as the team to beat.
In their two games they conceded just seven points while amassing combined 53.
Of the Australian teams, the Rebels, Waratahs and Brumbies each claimed one win, while the Reds finished the night winless.
Talk of the Tens
FOX Sports
Auckland Blues call up great Carlos Spencer as wildcard for Brisbane Tens
2 Nov 2017
Auckland Blues call up great Carlos Spencer as wildcard for Brisbane Tens
NZ Herald
Carlos Spencer and the return of the Blues' wildcard
2 Nov 2017
Carlos Spencer and the return of the Blues' wildcard
Stuff
Australian rugby is like a tortoise, 'slowly coming out of its shell' – Honey Badger
19 Oct 2017
Australian rugby is like a tortoise, 'slowly coming out of its shell' – Honey Badger
NZ Herald
Honey Badger's plan to attract interest to the Rugby Tens
27 Sep 2017
Honey Badger's plan to attract interest to the Rugby Tens
Stuff
Chiefs backline star Tim Nanai-Williams happy to face the heat in Brisbane again
4 Sep 2017
Chiefs backline star Tim Nanai-Williams happy to face the heat in Brisbane again
rugby.com.au
Tweaks to Tens in second year
30 Aug 2017
Tweaks to Tens in second year
Kyodo News
Wild Knights to once again represent Japan at Brisbane 10s
30 Aug 2017
Wild Knights to once again represent Japan at Brisbane 10s
Fiji Village
Fiji team will be sent to 2018 Brisbane Rugby Tens
30 Aug 2017
Fiji team will be sent to 2018 Brisbane Rugby Tens
The Courier Mail
Global Tens secure All Blacks star Julian Savea for next season's revamped tournament
29 Aug 2017
Global Tens secure All Blacks star Julian Savea for next season's revamped tournament
Populous
Suncorp Stadium's Latest Sporting Revolution
10 Mar 2017
Suncorp Stadium's Latest Sporting Revolution
The Courier Mail
Rugby's new tournament a big hit
13 Feb 2017
Rugby's new tournament a big hit
Sydney Morning Herald
Ten reasons the Tens are better than the Sevens
12 Feb 2017
Ten reasons the Tens are better than the Sevens