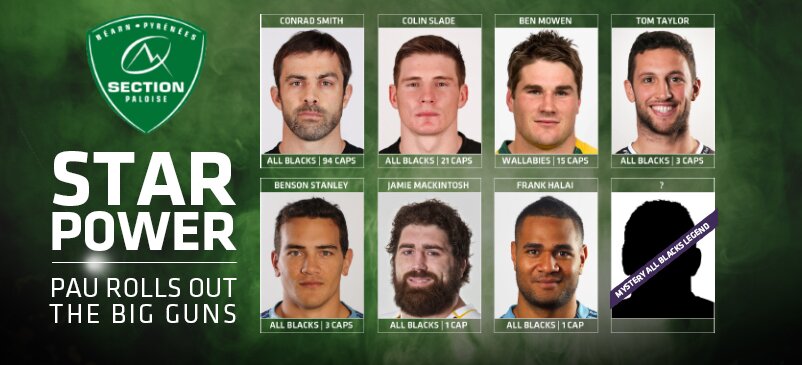 Two-time world cup winning centre Conrad Smith headlines a Section Paloise (Pau) Brisbane Global Rugby Tens squad.
The Pau squad features seven former All Blacks plus former Wallabies captain Ben Mowen, former England flanker Steffon Armitage and Fijian winger Watisone Votu.
The star-studded line-up includes former All Blacks playmakers Colin Slade and Tom Taylor, as well as former Blues fliers Benson Stanley and Frank Halai and cult figure Highlanders prop Jamie Mackintosh.
The identity of the seventh former All Black in the team – who is set to fill the wildcard spot in the squad – will be revealed in coming days.
Section Paloise coach Simon Mannix, another former All Black, said the club was out to make its mark on the international stage.
"The direction of the club is very ambitious," Mannix said. "Our club has come a long way in the last three-and-a-half years, establishing a strong foothold. Now we want to show that we can be competitive not only in the Top 14 but in Europe – and get that exposure internationally."
Mannix said the club's strong contingent of Southern Hemisphere players were excited by the prospect of playing Down Under again.
"It's an incredible opportunity," Mannix said. "Nobody ever forgets where they come from – where they were formed as rugby players, what their influences were.
"For the likes of Conrad Smith, Tom Taylor, Frank Halai, Benson Stanley and Jamie Mackintosh, these guys have such tremendous pride as New Zealanders and in New Zealand rugby. To pit themselves against [Super Rugby players] now, they are really excited about the challenge.
"And for the French boys it is a bit of a dream to line up against these Super Rugby franchises."
The tournament is a great chance for players who have plied their trade overseas to reconnect with their home town fans, Mannix said.
"It is great for guys who have obviously played a lot of rugby in the southern hemisphere to get a final opportunity to do so again."
That was particularly the case with Smith – a veteran of 94 tests for the All Blacks and 126 games for the Hurricanes – who is likely playing in the Southern Hemisphere for the final time.
"This is potentially the last six months of his rugby career," Mannix said. "It's a great opportunity for all of these boys to reconnect with where it all started."
The 2018 Brisbane Global Rugby Tens takes place on Friday February 9 and Saturday February 10 at Suncorp Stadium.
The Brisbane Global Rugby Tens is supported by the Queensland Government through Tourism and Events Queensland and Brisbane City Council through Brisbane Marketing.
Section Paloise Brisbane Global Rugby Tens squad:
Conrad Smith, Colin Slade, Ben Mowen, Steffon Armitage, Thomas Taylor, Lourens Adriaanse, Frank Halai, Jamie Mackintosh, Ignacio Calles, Lucas Rey Quentin Lespiauq, Jeremy Hurou, Daniel Ramsay, Giovanni Habel Kuffner, Pierrick Gunther, Baptiste Pesenti, Martin Puech, Thibault Daubagna, Clovis Lebail, Bastien Pourailly, Brandon Fajardo, Mathias Colombet, Watisoni Votu, Florian Nicot
Talk of the Tens
FOX Sports
Auckland Blues call up great Carlos Spencer as wildcard for Brisbane Tens
2 Nov 2017
Auckland Blues call up great Carlos Spencer as wildcard for Brisbane Tens
NZ Herald
Carlos Spencer and the return of the Blues' wildcard
2 Nov 2017
Carlos Spencer and the return of the Blues' wildcard
Stuff
Australian rugby is like a tortoise, 'slowly coming out of its shell' – Honey Badger
19 Oct 2017
Australian rugby is like a tortoise, 'slowly coming out of its shell' – Honey Badger
NZ Herald
Honey Badger's plan to attract interest to the Rugby Tens
27 Sep 2017
Honey Badger's plan to attract interest to the Rugby Tens
Stuff
Chiefs backline star Tim Nanai-Williams happy to face the heat in Brisbane again
4 Sep 2017
Chiefs backline star Tim Nanai-Williams happy to face the heat in Brisbane again
rugby.com.au
Tweaks to Tens in second year
30 Aug 2017
Tweaks to Tens in second year
Kyodo News
Wild Knights to once again represent Japan at Brisbane 10s
30 Aug 2017
Wild Knights to once again represent Japan at Brisbane 10s
Fiji Village
Fiji team will be sent to 2018 Brisbane Rugby Tens
30 Aug 2017
Fiji team will be sent to 2018 Brisbane Rugby Tens
The Courier Mail
Global Tens secure All Blacks star Julian Savea for next season's revamped tournament
29 Aug 2017
Global Tens secure All Blacks star Julian Savea for next season's revamped tournament
Populous
Suncorp Stadium's Latest Sporting Revolution
10 Mar 2017
Suncorp Stadium's Latest Sporting Revolution
The Courier Mail
Rugby's new tournament a big hit
13 Feb 2017
Rugby's new tournament a big hit
Sydney Morning Herald
Ten reasons the Tens are better than the Sevens
12 Feb 2017
Ten reasons the Tens are better than the Sevens